The NAACP Legal Defense Fund released its Fall 2014 study of capital punishment in the United States recently.
Entitled "Death Row USA," it is available to read online here.
In the report, Florida continues to have the second largest Death Row population in the country (only California has more), followed by Texas, Alabama, and Pennsylvania.
No surprise there, right?
The Discovery Channel has dramatized the Escoto case (see our earlier posts for Terence Lenamon's defense of Michel Escoto and background on the case).
It's called "I'll Have What She's Having."
(You may recall that Dateline also did an episode on this murder trial, entitled "Mystery in South Beach" earlier this year.
Check it out!
From the Discovery Channel, this description:
Charming Michel is living a cozy family life with loyal girlfriend Yolanda. When he starts classes at beauty school, he also launches into a steamy relationship with a younger woman. It's a three way love affair that will have fatal consequences.
Terry Lenamon received the following information from Kathryn Kase regarding her fight to stop Scott Panetti from being executed by the State of Texas, and we are sharing the following here:
Executing the Insane: The Case of Scott Panetti from Off Center Media on Vimeo.
__________________________________________________________________________
On Thursday, November 6, 2014, the trial court judge in Kerrville, Texas refused to withdraw or modify the December 3, 2014 execution date for Scott Panetti.
Below is a statement from Kathryn Kase, one of Mr. Panetti's attorneys and Executive Director of Texas Defender Service, followed by background about the case.
Statement from Kathryn Kase, attorney for Scott Panetti:
"Texas has conducted itself disgracefully in the case of Scott Panetti, who has had schizophrenia for over thirty years and suffers from a fixed delusion that Satan is trying to kill him through the state of Texas. Yesterday, a judge ruled that Texas will not slow its rush to execute to Mr. Panetti, despite the fact that he has not had a competency hearing in seven years.
"This shameful case has revealed the state's disregard for the dignity of the mentally ill at every turn: from allowing Mr. Panetti to represent himself at his capital trial dressed in a cowboy costume despite his severe mental illness to more recently, when the state did not disclose to Mr. Panetti's attorneys that his execution date had been set. It is extremely troubling that we only learned about the execution date from the media two weeks after the date had been scheduled.
"Mr. Panetti went to death row in 1995 a man who had already been hospitalized over a dozen times for the incurable and devastating illness of schizophrenia; he attempted to represent himself in court through the haze of his ongoing schizophrenia, and he remains a man with schizophrenia and a fixed delusion today. The prospect of his execution, particularly following such a profoundly compromised legal process, is morally reprehensible."
-Kathryn Kase, attorney for Scott Panetti and Executive Director of Texas Defender Service -November 7, 2014
Case Background
On Monday, November 3, 2014, an Emergency Motion for Hearing was filed in state court by attorneys for Scott Panetti, a severely mentally ill man scheduled for execution in Texas on December 3, 2014, asking the State withdraw or modify the execution date so that Mr. Panetti is given a meaningful opportunity to contest his competency for execution.
Mr. Panetti has not had a competency hearing in nearly seven years.
Astonishingly, it is noted in the Motion that Mr. Panetti's attorneys learned of the execution date from the newspaper on October 30th -- two weeks after the date was set, apparently in secret, with no notice whatsoever to the lawyers who have represented Mr. Panetti for nearly a decade.
"The State has an unequivocal, constitutional duty in every case to pursue justice -- not a conviction, not an execution, not a win at all costs. By not informing attorneys that an execution date had been set, the State has fallen woefully short of that duty in Scott Panetti's case," said Greg Wiercioch, counsel of record for Mr. Panetti.
"The State's conduct would be disturbing if this were a routine case. But it is unconscionable in a death penalty case where the District Attorney himself did not believe Scott Panetti was competent to represent himself at trial," said Mr. Wiercioch.
The Motion states, "[t]here can be no serious dispute that, because of Mr. Panetti's long-standing and incurable psychotic disorder, he meets the threshold showing that entitles him to the appointment of two experts and an evidentiary hearing under Article 46.05 of the Code of Criminal Procedure,' and that "[t]he U. S. Supreme Court held – in Mr. Panetti's own case – that the procedure for determining a prisoner's competency for execution must comport with due process under the Eighth and Fourteenth Amendments." (page 2)
"Mr. Panetti's severe mental illness has infected every stage of his capital case. His execution now would cross a moral line and serve no penological purpose. It is reasonable and necessary for a competency hearing to take place before the State wrongly executes someone who is clearly incompetent for execution," said Kathryn Kase, co-counsel for Mr. Panetti.
Three-Decade History of Severe Psychosis and Delusions
Mr. Panetti has suffered from extreme mental illness for over 30 years. He was hospitalized a dozen times for psychosis and delusions in the six years leading up to the crime for which he was convicted and sentenced to death.
The first time Mr. Panetti showed signs of being afflicted with a psychotic disorder was in 1978, over 14 years before the crime. During his multiple hospitalizations, doctors diagnosed him with chronic schizophrenia and schizoaffective disorder and proscribed antipsychotic medication.
In 1986, Mr. Panetti first succumbed to the delusion that he was engaged in spiritual warfare with Satan. In an affidavit his first wife signed to have him involuntarily committed, she testified that he was obsessed with the idea that the devil was in the house. He engaged in a series of bizarre behaviors to exorcize his home, including burying his furniture in the backyard because he thought the devil was in the furniture.
Two years before the crime for which he was convicted and sentenced to death, Mr. Panetti was involuntarily committed for homicidal behavior and was found to be suffering from delusions and psychotic religiosity. The crime for which he was convicted and sentenced to death also had the hallmarks of a severely disturbed mind.
While off his anti-psychotic medication in 1992, Mr. Panetti shaved his head and dressed in camouflage fatigues before going to his in-laws' home and committing the offense for which he was convicted and sentenced to death. Detailed information about Mr. Panetti's medical history can be found in this mental illness timeline starting in 1978 that shows how Mr. Panetti's mental health degenerated over the years, including how in 1986, the Social Security Administration made a determination that Mr. Panetti was so disabled from schizophrenia that he was entitled to government benefits.
While representing himself at trial in 1995, Mr. Panetti sought over 200 subpoenas, including ones for John F. Kennedy, the Pope, and Jesus Christ. He wore a TV-Western cowboy costume and a purple bandana.
Mr. Panetti's statements in court, at both the guilt and sentencing phase, were bizarre and incomprehensible. He took the witnesses stand and testified about his own life in excessive and irrelevant detail. Mr. Panetti announced that he would assume the personality of "Sarge" and recounted the gruesome details of the crime in the third person. He gestured as if pointing a rifle to the jury box (visibly upsetting the jurors) and matter- of-factly imitated the sound of shots being fired.
Fixed Delusion that Texas is Trying to Kill Him for Preaching the Gospel
Mr. Panetti has a fixed delusion that his execution is being orchestrated by Satan, working through the State of Texas, to put an end to his preaching the Gospel of Jesus Christ. If his execution date is not withdrawn, he will go to the execution chamber convinced that he is being put to death for preaching the Gospels, not for the murder of his wife's parents, and the retributive goal of capital punishment will not be served.
The State of Texas has scheduled the execution of Scott Panetti for December 3, 2014, despite the fact that Mr. Panetti has been diagnosed to suffer from both schizophrenia and schizoaffective disorder.
During his criminal trial, there was quite a bit of hoopla as Scott Panetti represented himself at trial, appearing before the court in what looked to be a cowboy outfit.
Things became more bizarre as he wanted to put the Pope as well as Jesus Christ, President John F. Kennedy, and Anne Bancroft on the witness stand for examination.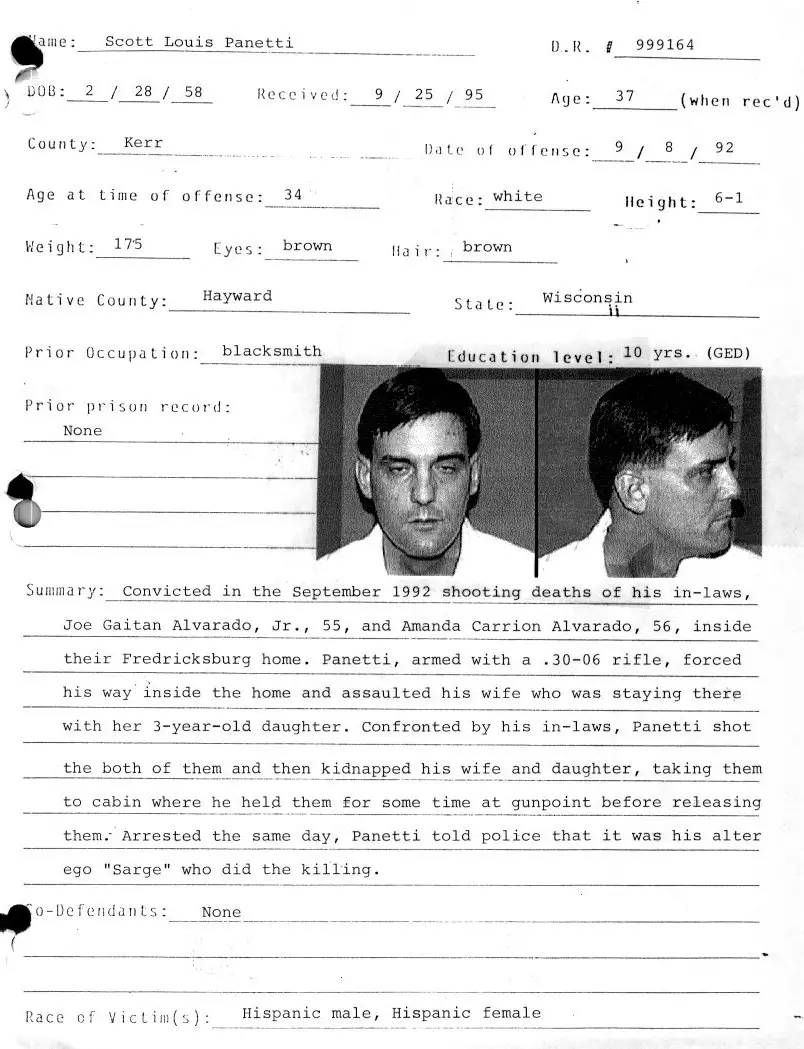 nbsp;
We'd be hard pressed to find anyone who wouldn't agree that Scott Panetti is mentally ill.
However, the State of Texas has a test for whether or not someone can be execution that allows Panetti's capital punishment to go forward. The State's argument is that since Panetti has been shown to recognize a logical connection between the crime that he committed and the punishment that has been assessed as a result (death), then the execution can legally go forward without violating federal constitutional prohibitions against executing someone who is mentally ill.
This has been a long fight.
Panetti's case has already been before the United States Supreme Court once: the High Court stayed his execution then on the grounds that the State had failed to consider Panetti's history of mental illness (which goes back many years).
For those interested in this subject, the amicus curaie brief filed by the American Psychological Association before the Supreme Court on behalf of Scott Panetti can be read online here.
Moving once again through the court system, the State won arguments before appellate panels that Panetti is indeed legally competent under the Texas definition.
Last month, the U.S. Supreme Court denied Panetti's request to look at his case a second time.
This week, Panetti's lawyers have filed more arguments here in Texas trying to stop this execution from happening.
Surely justice will prevail.
Terence Lenamon will have the honor of being part of a panel discussion on death penalty issues with Sister Helen Prejean next month (see our previous post for time and date details).
As for what that panel discussion might include, check out this video of Sister Helen discussing "Together We Can End the Death Penalty," in San Francisco in a session hosted by the San Francisco Public Defender's Office
:
In what is probably no surprise to anyone, the family of Clayton Lockett, who suffered so horribly during his April 29, 2014 execution by the State of Oklahoma, has filed a civil lawsuit for damages.
Lockett Family Complaint Names Dr. Johnny Zellmer - Physician Present at Execution
The Lockett family is seeking damages because the "unsound procedures and inadequately trained personnel" caused the deceased to suffer in no small part because of Dr. Johnny Zellmer who was at Mr. Lockett's execution, and they allege "… was willing to, and did in fact, conduct the medical experiment engaged in by Defendants to kill Clayton Lockett regardless of the fact that these chemicals had never been approved or tested by any certifying body."
Of interest and perhaps of legal weight in this lawsuit is the fact that after the Lockett execution, the State of Oklahoma not only stayed its pending executions for the remainder of 2014 but also revamped its entire execution process as well as its Death Chamber.
Terry Lenamon Joins Sister Helen Prejean and Others To Discuss Death Penalty
Mark your calendars for November 8, 2014, when Terence Lenamon will be joined by Sister Helen Prejean and Herman Lindsey (played by Susan Sarandon and Sean Penn, respectively, in the movie, "Dead Man Walking"); along with Broward Public Defender Howard Finkelstein and Melisa McNeill and Betsy Benson, Assistant Public Defenders Homicide Division to discuss issues surrounding capital punishment and the growing problem of innocents facing the death penalty.
Where: The Sanctuary Church, Ft. Lauderdale, Florida, 33304
When: November 8, 2014, at 6 pm
Mental Health Problems and The Death Penalty
October 10, 2014, will be the sixth time that the World Coalition Against the Death Penalty has recognized the international problem of people suffering from mental illness being sentenced to death.
Go here to check out the schedule of events.
On 10 October 2014, the 12th World Day Against the Death Penalty is drawing attention to people with mental health problems who are at risk of a death sentence or execution.

While opposing the death penalty absolutely, abolitionists are also committed to see existing international human rights standards implemented.

Among these is the requirement that persons with mental illness or intellectual disabilities should not face the death penalty.
1. Next month, Terence Lenamon will be part of a panel discussion at Fordham Law School in New York on "Neuroscience in the Courtroom," discussing "
How Neuroscience Expands and Transforms Proof."
Here are the details
.
Advances in neuroscience are challenging conventional notions about human thought, behavior, pain, and brain injury. These developments are upending established medical concepts as well as traditional moral and ethical considerations. These insights could potentially uproot old paradigms embedded in the law and rules of evidence.
Fordham Law's "Neuroscience in the Courtroom" has assembled a panel of world-class neuroscientists and distinguished experts, judges, and lawyers to share their knowledge and experience regarding issues posed by advances in neuroscience and neuro-imaging/investigations: diffusion tensor imaging (DTI), functional MRI (FMRI), quantitative electroencephalography (QEEG), volumetric MRI, near infra-red spectroscopy (NIRS), and positron emission tomography (PET).
By casting a new light on traditional ideas regarding brain injury, pain, morality, criminal culpability, competence, objectivity/subjectivity, and causation, neuroscience presents an array of challenges that are being played out in the courtrooms of this country and globally.
Attend Fordham Law's "Neuroscience in the Courtroom" to learn how judges and lawyers can respond to the advances, insights and challenges that neuroscience and neuro-imaging present for proof and adjudication.
The conference is designed for
Judges who will preside over cases involving neuroscience issues

Attorneys in relevant practices (e.g., personal injury, criminal, trusts and estates) who will contend with neuroscience issues with their clients
2. Terence Lenamon's work in the Grady Nelson case, and his work with QEEG, is featured in the new textbook edition of Law and Neuroscience by Professor Owen Jones et al.
The implications for law of new neuroscientific techniques and findings are now among the hottest topics in legal, academic, and media venues. Law and Neuroscience a collaboration of professors in law, neuroscience, and biology is the first coursebook to chart this new territory, providing the world s most comprehensive collection of neurolaw materials.
Features:
Designed from the ground up with extensive e-capability in mind, with each e-chapter extensively linked to outside sources.

Technical subjects explained in an accessible and user-friendly manner.

Extensive glossary of key terms.

Covers highly current material; over 60% of the cases and publications included were published since 2008
Image from NCCADP.ORG: Henry McCollum, right after he's been exonerated.
DNA Frees 2 Brothers After 30 Years Behind Bars
Henry McCollum and Leon Brown are brothers.
For the past 30 years, McCollum has lived on North Carolina's Death Row after being convicted of murder and sentenced to death back in 1984. Brown lived on Death Row, too, until his murder conviction was tossed. The crime happened when Henry was 19 and Leon was only 15 years old.
They were accused of raping and murdering an 11 year old girl, Sabrina Buie, and each did sign a confession to the crime. However, both have low IQ scores which immediately bring the "confessions" into question. (McCollum tests at 60 IQ; Brown at 49).
McCollum holds the record as the longest-serving inmate on death row in North Carolina. Both of the brothers have now been freed.
Another example of the need for warriors like Terry Lenamon out there in the trenches when the Death Penalty is on the table.
Now available on Netflix (streaming) is an amazing documentary on the death penalty that delves into capital punishment through the eyes of the "death house" chaplain -- a man who witnessed nearly 100 executions in his role as chaplain.
You can watch "At The Death House Door" 24/7 online or via your streaming TV device if you have a Netflix subscription.
It also discusses the case of Carlos DeLuna (see our post last month on a new book, The Two Carlos, that deals with the travesty of an innocent man being executed in Texas).
Great documentary for anyone interested in death penalty issues: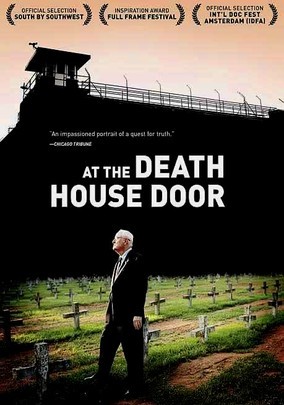 Last week, a report was released over in Oklahoma that confirmed that the botched execution of Clayton Derrell Lockett wasn't the result of any drug or combination of drugs. Nope.
Apparently, the horrific execution of Mr. Lockett was the result of how the IV was inserted into his arm.
You'll recall that it was only after 45 minutes of obvious pain where the man writhed and struggled against his restraints there on the table that he finally passed away last April.
Now we know that the executioner was not a physician or even a paramedic. In fact, under the current Oklahoma laws, no formal medical training is required for the persons who are responsible for the lethal injection method of execution in that state.
Of course, Oklahoma isn't alone in horrific executions. Arizona took almost 2 hours to execute Joseph R. Wood III this past July.
Read the Oklahoma Department of Public Safety Report on the Execution of Clayton D. Lockett here.
This week, the Associated Press did a nice job of listing the various problems that the lethal injection method of execution has had since it was first used by the State of Texas in 1982. You can read this reporting here, "
Some Lethal Injection Problems in US Executions
."
Needless to say, the botched executions that have happened in 2014 are far from the first problems that have resulted while executing a human being by injecting them with chemicals. It's an execution method that may be viewed in future years as heinous, cruel, and just plain wrong. Hints of this include the
growing alarm being voiced by medical professionals to lethal injections
.
However, instead of halting executions it appears that capital punishment continues in Texas, Florida, and other states without apparent concern for these lethal injection methods. Texas has scheduled another execution using lethal injection - the first since April 2014.
As for what is going to be used for execution? We don't know.
Is anyone else concerned about this?
Is anyone else thinking that there's a constitutional problem with both the secrecy as well as the methodology?
Several years ago,
Dr. Marc Stern
resigned from the Department of Corrections for Washington State, where he worked as its chief medical officer, because he could not jive his professional ethics as a physician with the state's use of capital punishment.
It's a big dilemma in the use of lethal injections, particularly, as a means of execution since physicians are committed to health and saving lives, not ending them.
Image: States in red have had an execution since 1976.
Doctors are against the death penalty, and as Dr. Stern personifies, many also stand against physicians being involved in the supervision of others in any form of execution process (not just lethal injections).
Dr. Stern Explains The Doctor's Dilemma Regarding the Death Penalty