Right now, there is a petition before the Supreme Court of the United States coming out of the State of Arizona. If SCOTUS agrees to hear this case, then it's a big deal. It may be the 21st Century's Furman v. Georgia.
Hidalgo v Arizona Petition Before SCOTUS
The case is Hidalgo v. Arizona. Follow it here.
Why is it a big deal? Key to the petition is the issue of "aggravating factors" and how they work. Each state has its own list. (See Terry's list of state aggravating factors and mitigating circumstances here.)
In Arizona, they've added so many factors to the list that anyone convicted of murder can face death in that state. There's also a budget argument, some Arizona counties are more likely to seek death because they can afford it.
Tribe's Op-Ed Argues Hidalgo to Strike Down the Death Penalty
Lots of illustrious folk are voicing their concerns over capital punishment and their interest in the High Court rendering its opinion in Hidalgo. But if you just want to read one, check out Laurence Tribe's op-ed in the Washington Post, "The Supreme Court Should Strike Down the Death Penalty."

Amicus Briefs Filed in Hidalgo
Also check out the amicus briefs:
Today, the jury came back with a guilty verdict in the capital murder trial of James Bannister.
Terence Lenamon is defending in the case with co-counsel Tania Alavi. Of course, this is only the beginning for Terry and Tania: starting on Monday, there will be the fight against the death penalty that is being requested by the State of Florida.
Penalty Phase Starts on Monday
Beginning next week, the focus will be upon arguing to the jury that mitigating circumstances outweigh the aggravating factors urged by the prosecution, and that the sentencing should forego death for LWOP (life sentence without the possibility of parole).
What will Terry argue? Each case is different.
However, for those interested in these matters, there is the recent closing that he gave in the Wells case where the jury nixed death after considering Terry's arguments for mercy.
Read that closing here:
Terence Lenamon argued against the imposition of the death penalty in the William Wells case last month, and the result was a jury finding that Wells should not receive death but instead life without parole.
The jurors' determination was based upon consideration of the aggravating factors argued by the State as they balanced against the mitigating circumstances urged by Terry. Mercy won:
So, what did Terry argue to these twelve jurors that resulted in four of them deciding against capital punishment?
Read his Closing Argument here, stored for future reference in the Terence Lenamon Online Library:
Over in California, lawyer Scott Glovsky creates podcasts of his talks with fellow trial attorneys, those he considers to be the great trial lawyers in the United States today, published on his site as "Trial Lawyer Talk."
Terry Lenamon Interview: "Trial Lawyer Talk"
This month, he spoke with Terence Lenamon. It's a lawyer to lawyer chat. And it provides fascinating details of how these capital cases are investigated as well as tried.
It's a death penalty lawyer going into detail about a specific capital case.
The interview covers 36 minutes and can be heard here, as episode 38, where Terry discusses (1) facts of the case as well as (2) his experience in defending Byron Burch, who was accused of killing his elderly aunt in a horrific manner. What about DNA? What about mental illness?
Burch was convicted of the crime, but Terry successfully blocked the state's desire for capital punishment in the case. Instead, Burch was sentenced to life in prison without parole.
This was a hard-fought victory for Terry, where Florida law at the time allowed a jury to vote 7 to 5 in favor of death for the state to win its desire for capital punishment. Things have changed since then, of course.
Opening Statement in Terry Lenamon's Online Library
What more details? You can read his opening statement in the Burch case as well as the state's opening to learn what the jury heard in that case.
Watch the Burch Penalty Hearing
There is also a YouTube video of the actual penalty hearing if you want to watch how these things progress, and see Terry in action. Watch it here:
The Supreme Court of the United States has denied certiorari in two important Florida death penalty appeals, which questioned current jury instructions given in capital cases.
SCOTUS Dissent in Challenge to Florida Jury Instructions in Death Penalty Cases
From Justice Sotomayer, a dissent joined by Justice Ginsburg and Justice Breyer, stating in part:
"At least twice now, capital defendants in Florida have raised an important Eighth Amendment challenge to their death sentences that the Florida Supreme Court has failed to address. Specifically, those capital defendants, petitioners here, argue that the jury instructions in their cases impermissibly diminished the jurors' sense of responsibility as to the ultimate determination of death by repeatedly emphasizing that their verdict was merely advisory. "This Court has always premised its capital punishment decisions on the assumption that a capital sentencing jury recognizes the gravity of its task," and we have thus found unconstitutional under the Eighth Amendment comments that "minimize the jury's sense of responsibility for determining the appropriateness of death." Caldwell v. Mississippi, 472 U. S. 320, 341 (1985). ….
"Because petitioners here raised a potentially meritorious Eighth Amendment challenge to their death sentences, and because the stakes in capital cases are too high to ignore such constitutional challenges, I dissent from the Court's refusal to correct that error."
Read the full dissent in Truehill v. Florida / Oliver v. Florida, placed for future reference in the Terence Lenamon Online Library:
For capital lawyers, you might be interested in hearing Terence Lenamon speak at this year's Bob Chaloupka Kick Ass Trial Skills Seminar, proceeds of which are donated to NATA, NCDAA and Trial Lawyers College. The program begins at noon on Thursday, November 2, 2017, and ends at 12:30 on Friday, Nov. 3rd.
Bob Chaloupka Kick Ass Trial Skills Seminar
The Bob Chaloupka Kick Ass Trial Skills Seminar is designed to teach, motivate and honor brave service to clients in the courtroom – whether in personal injury, criminal, family law, property law or other areas of practice that summon lawyers' courage in court. And, in true homage to Bob Chaloupka, the Seminar gives lawyers who care about serving their clients an opportunity for fellowship and togetherness, setting aside differences to learn from one another (and to raise a glass together at the cocktail hour).

Our speakers have come from around Nebraska, Wyoming, Colorado and South Dakota; but also from Alaska to Miami. Our speakers have included three federal judges as well as an innocent man, exonerated after 24 years in prison on a wrongful conviction. Both civil defense and civil plaintiffs' lawyers have presented at the Bob Chaloupka Seminar, alongside some of the bravest criminal lawyers in the United States. The common theme is what ties speakers to Bob's legacy: hope; vision; creativity, bravery even when one is afraid, and service to the client above all else.
Just click here to register online via Paypal. Approved for CLE credit in Nebraska, Iowa, Wyoming and Colorado.
From the Seminar Materials:
Come to Scottsbluff, and hear from a true hero in the world of death penalty defense, Terry Lenamon.
Terry is a death penalty specialist: he handles the most challenging, grisly and emotionally trying death penalty cases throughout the State of Florida.
His work has helped to shape the law and the structure of death penalty litigation in Florida, and he has trained and taught other lawyers how to serve clients on appointment of the court in this uniquely difficult area of practice.
His trials have been featured on Dateline, Snapped and 20/20, in part because the cases are sensational but also, and more importantly, because of how Terry has developed and innovated new ways to discovery and tell the story of his clients' own trauma.
It is not to pretend his clients (who are by and large guilty) should "get off" – it is to make the case for Mercy, which is the topic of Terry's presentation at our program.
Terry's commitment to the ideals of loving the least of our brothers is his calling, and a challenge to those of us who are moved by his work.
Many in Florida have been following the capital case of William Wells. He's been known in the media as "the Monster of Mayport" for years now.
No Death Penalty: "A Vote for Humanity and Mercy" - Terry Lenamon
Terence Lenamon and co-counsel Tania Alavi of Ocala represented William Wells in his 2017 capital trial before the Honorable William Davis in Starke, Florida. Lenamon Law associate Melissa Ortiz and mitigation specialist Kate O'Shea played pivotal roles in the defense team's victory against death in this case.
Result: The jury did NOT vote for the death penalty. In what Terry's views as "... a vote for humanity and mercy," the jurors found that the balance between aggravators and mitigating factors did not warrant capital punishment.
Background from the Trial:
The State of Florida sought the death penalty for William Wells based upon the death of an inmate at the hands of William Wells and Wayne Doty. Wells confessed to the killing.
Wells was incarcerated at the Florida State Prison at the time of this killing because of his prior conviction for five counts of 1st degree murder back in 2003.
Wells pled guilty to killing his wife, his wife's lover, her father, her brother, and a drug dealer over a time period covering 11 days. All the bodies were kept in Wells' trailer with him and his small son.
With this background, how could Lenamon and his team convince the jury not to decide on death for this man?

What swayed them? Read the arguments for yourself.
Opening and Closing in the William Well's Death Penalty Trial
First, there is the Opening Statement by Terry's co-counsel Tania Z. Alavi in Terry's Digital Library.
Then, there were Terry's Closing Arguments. That part of the trial will be uploaded into the Digital Library once they've been transcribed and forwarded.
William Wells Penalty Phase Opening Statement by Lenamon co-counsel Tania Z. Alavi
This week, the Marshall Project published an op-ed by Susannah Sheffer entitled "After Executions, Defense Attorneys Have Their Own Grief: a therapist on the emotional price lawyers pay to defend individuals sentenced to death."
As she points out so well, things are different for lawyers like Terry Lenamon who have dedicated their legal careers to defending men and women accused of capital crimes and for whom the prosecutor seeks the death penalty.
There is the emotional toll that must be respected and cannot be underestimated when the death penalty defense attorney and his team does all that they can do, and still their client enters the execution chamber.
From the article:
"Defense attorneys are not at the center of the death penalty story, but the penalty's impact on these unique stakeholders is significant. It demands that we take seriously the wide-ranging implications of each execution."
Pressures of the Practicalities of the Practice
Another factor that adds more stress to the death penalty defense lawyer's daily life which is not mentioned in her article is how these lawyers have to be savvy and smart in how they do their job, because they are dealing (for the most part) with indigent clients. There's not much money in the budget and there's a life on the line.
Defending against death in any scenario is emotionally harsh, but consider how difficult it is for the cases where you have to monitor how every single dime is spent and still maintain a standard of excellence?
Think about it.
Indigent Defense in Capital Cases: Florida's JAC
Every so often, we recommend a book or movie or film that informs and educates about the complexity of issues involved in capital cases and the death penalty in America today.
Today, we're sharing a documentary that is available on Netflix right now.
It's Into the Abyss (2011) directed by Werner Herzog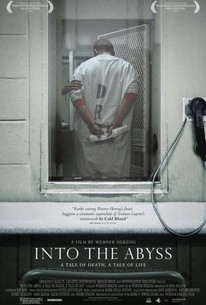 Critics at Rotten Tomatoes rank this film 92% on the Tomatometer and 76% of the reporting audience at Rotten Tomatoes liked it.
What's it about?
From Rotten Tomatoes (quoting from the synopsis on the film's site):
"In his fascinating exploration of a triple homicide case in Conroe, Texas, master filmmaker Werner Herzog probes the human psyche to explore why people kill-and why a state kills. In intimate conversations with those involved, including 28-year-old death row inmate Michael Perry (scheduled to die within eight days of appearing on-screen),
Herzog achieves what he describes as "a gaze into the abyss of the human soul." Herzog's inquiries also extend to the families of the victims and perpetrators as well as a state executioner and pastor who've been with death row prisoners as they've taken their final breaths. As he's so often done before, Herzog's investigation unveils layers of humanity, making an enlightening trip out of ominous territory. -- (C) Official Site"
This month, the Death Penalty Information Center shares a new podcast with its PowerPoint presentation, entitled "Does Capital Punishment Deter Murder?."
View the PowerPoint presentation here.
Listen to the podcast here.
In it, DPIC Fellow Seth Rose and Executive Director Robert Dunham detail research studies that reveal Death Penalty does not deter murders from being committed nor does it work to keep police officers safer than in states where capital punishment is not condoned.
Dunham explains: "There's no evidence that the death penalty deters murder and there's no evidence that it protects the police. Murder rates may be affected by many things, but the death penalty doesn't appear to be one of them."
Terence Lenamon fights against the death penalty as his life's calling. This week, he is involved the jury selection for the William Wells case over in Starke. (Wells is the man whom the media has dubbed the "Mayport Monster.")
And if you listen to the arguments of Dennis Prager in this video (which had over 887,000 videos at the time this post was published), then you get the idea just how hard Terry's job can be.
Because there are people out there who think the death penalty is acceptable. And that today's technology makes it almost impossible to convict and execute an innocent person.
Just watch the other side's position here.
Then, take comfort that people like Terence Lenamon and the folks at the Innocence Project are out there, hard at work.
And maybe someone can point Mr. Prager to recent exposes that DNA isn't all that reliable, crime labs and prosecutors do bad things, and that (as one example), Cameron Todd Willingham died an innocent man, executed for the arson death of his daughters.
Did you know that Terence Lenamon was on the faculty of the Trial Lawyer's College founded by renowned trial lawyer Gerry Spence?
What is the Trial Lawyer's College?
Here's the mission statement from the site:
The Trial Lawyer's College is dedicated to training and educating lawyers and judges who are committed to the jury system and to representing and obtaining justice for individuals; the poor, the injured, the forgotten, the voiceless, the defenseless and the damned, and to protecting the rights of such people from corporate and government oppression.
In all of its activities, the Trial Lawyer's College will foster and nourish an open atmosphere of caring for people regardless of their race, age, creed, religion, national origin, physical abilities, gender or sexual orientation.
TLC Kudos to Terry for Recent Result in Joshua Fulgham case
And here is the TLC post announcing Terry's victory against the death penalty earlier this summer in the Fulgham case, written by Maren Chaloupka – TLC Faculty & '99 Grad
Terry Lenamon (TLC '11 7-Step Grad), death penalty warrior in Florida, saved the life of his client Josh this week – – after a lengthy, graphic and heartwrenching trial on both guilt and sentencing, Terry's jury returned a verdict of LIFE for the damaged, despised man whom Terry placed into the jury's hands.

The prosecutor used some prosecutorial version of TLC methods in his final argument of the sentencing phase of trial, reenacting parts of the kidnapping and murder for which Josh stood trial. That Terry overcame that dramatic reenactment is a true testament to the power of love.

Folks, it doesn't get any more real than this. This man would be damned to the needle if not for Terry. I am amazed and so proud to have him in our group.
Here is a link to a news write up about this case: Jury: Life for Fulgham

Here is a link to a TV story on this case: Joshua Fulgham Gets Life
This week in Florida, there were two major events involving capital punishment in the Sunshine State.
1. Asay Execution With Etomidate
First, the execution of Florida Death Row inmate Mark James Asay was carried out on August 24, 2017.
This was the first execution by the State of Florida in over 19 months. Executions have been on hold in Florida after the SCOTUS decision in Hurst ruled the Florida capital punishment statute unconstitutional.
It was also the first execution to use a new three-drug lethal injection protocol, as the Asay execution involved the use of the drug etomidate.
2. Lack of Unanimity Denies State the Death Penalty in Kendrick Silver Trial
This week, the capital murder trial of Kendrick Silver when to a jury in Miami. And because one single juror could not agree that Silver should be executed for his crimes, there can be no death penalty in his case.
This is the first death penalty case that has been tried to completion in Miami since the new Florida death penalty law was passed by the Florida Legislature earlier this year.
The new statute had to be passed into law because of the SCOTUS decision in Hurst.
Under the new law, which requires all the jurors agree on the death penalty as the appropriate sentence, the power of a single juror is great. As is shown in this case, where the hold-out juror found that there were sufficient mitigating circumstances to shield the defendant from death.
Foe more on mitigation in a death penalty case, read:
Of course, the biggest result of the Florida Supreme Court's decision this week in Asay v. Florida is its failure to block the impeding execution of Mark James Asay.
Read the full opinion here: Asay v. State, No. SC17-1400 (Fla. Aug. 14, 2017).
Asay Execution Remains Scheduled for August 24, 2017
The State of Florida has scheduled this execution for August 24, 2017. This week's Florida Supreme Court opinion will not block that from happening.
It will be the first execution in the State of Florida in many months (over a year and a half), since executions were halted here after SCOTUS ruled that the Florida death penalty statute was unconstitutional.
Impact on Florida Death Row Inmates' Review of Death Sentences
After SCOTUS's ruling in Hurst v. Florida, the Florida Legislature revised the state capital punishment laws twice. This year, a new statute became effective that mandates juries be unanimous in their recommendation of a sentence of death.
As we have discussed earlier, one result of the SCOTUS ruling meant that Florida Death Row inmates might have legal arguments for re-sentencing and life sentences on constitutional grounds.
The Asay opinion by the Florida Supreme Court did not agree with Asay's constitutional arguments -- although the sole dissenter, Justice Barbara Pariente, did find merit in them. Specifically, that the cut-off date for determining which Florida Death Row inmates should be allowed re-sentencing hearings is unconstitutional.
Justice Pariente dissents, agreeing with Petitioner Asay that all Florida Death Row inmates who were sentenced to death in jury trials without unanimous recommendations for death should get a new sentencing hearing.
Lethal Injection Protocol for State of Florida
This new opinion in Asay is also important for the Florida Supreme Court's declination to consider Asay's arguments about:
(1) the State of Florida's decision to use a new drug in its lethal injection method of execution (etomidate) and
(2) its use of a three drug cocktail and not a single drug in the execution process.